Emergi-Clean, Inc. is a second-generation, woman, family-owned, and operated business specializing in Biohazardous and Infectious Disease Mitigation since 1995, serving New Jersey, New York City and the Philadelphia Metropolitan areas. For over 25 years, we have provided professional and unparalleled remediation services to more than 10,000 families, communities, and businesses after traumatic and disastrous situations. These situations could be but are not limited to:
Biohazard Remediation
Unattended Death
Suicides
Decomposition and Odor
Accidents
Overdoses
Blood Spills
Blood and Bodily Fluid Cleanup
Emergi-Clean, Inc. was founded by Diane and Ron Vogel while volunteering as emergency medical technicians, responding to many incidents where family members felt lost. Their vision of the company occurred during those unthinkable events, and they quickly reflected on how they could provide for people in a time of need. They acted quickly and sketched the company's logo, "Bloodzee."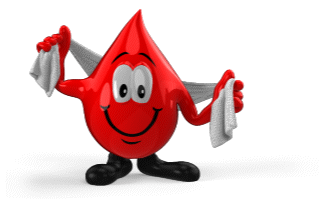 . Since those early days and with considerable dedication and commitment, Emergi-Clean, Inc. has truly established itself as the leading Biohazard Company in the Tri-State area. Additionally, Emergi-Clean, Inc. is one of the top five Biohazard Companies in the nation. What began with a simple design has represented a company structure that continues to respond with the utmost superior service throughout the Tri-State Area.
As a trustworthy and true family business model, their son, the youngest of three, has taken over as Chief Operating Officer (COO) since 2014. Since then, Emergi-Clean, Inc. has established a full Level A bioterrorism response and remediation unit, expanding services and establishing some of the country's strictest and more comprehensive mitigation protocols. In addition, Emergi-Clean, Inc. has representatives sitting on multiple industry-related committees, active instructors, professional writers, and excelled contributors that have sharpened a continuously growing field of biohazard remediation. *For a full list of certifications please visit our company certification page.
What Makes Us Different?
Being in the industry for over 25 years, Emergi-Clean, Inc. has stood out against competitors due to our dedicated mission statement and core ethical values. Unfortunately, we see in our industry that not all biohazard companies operate in the client's best interest, as only a few can be classified or recognized as true experts. Fortunately for the public health field, Emergi-Clean, Inc. rises up against its competitors, having 3 out of 18 Certified Bio Recovery Master within the world designated by the American Bio Recovery Association (ABRA).
Emergi-Clean, Inc. professional staff represents some of the country's most respected and influential industry leaders. (Click here to Meet the Team). Emergi-Clean, Inc.'s team is incomparable to others as we maintain the only Department of Labor-approved biohazard remediation apprenticeship programs in the country; we strive to continuously engage our staff to enhance and improve their knowledge within the field. We believe that our customers deserve the highest quality service while being treated with dignity and respect.
The Reason Why
American Bio Recovery Association (ABRA) Certified Firm:

ABRA's objective is "to achieve and maintain the highest levels of competence among members in the performance of their profession. To teach, instill and require the highest technical, ethical and educational standards." ABRA certified firms are required to show proof of maintaining proper insurance, OSHA compliance, blood borne pathogen training records, respirator fit testing, proper handling of biohazardous waste and other laws or requirements in order to maintain good standing in the American Bio Recovery Association.

ANSI/IICRC S540 Crime and Trauma Cleanup Standard:

Emergi-Clean, Inc. staff has been selected to sit on the development and current revision of this standard. This Standard defines criteria and methodology used by the technician for inspecting and investigating blood and other potentially infectious material (OPIM) contamination and for establishing work plans and procedures. The Standard describes the procedures to be followed by professionals and the precautions to be taken when performing trauma and crime scene cleanup regardless of surface, item, or location. Emergi-Clean, Inc. ensures this standard is met and followed and trained to all of its Certified Technicians.

TRUE Certified Technician:

95% of companies certify their technicians from within; however, via our apprenticeship program and outside associations like the American Bio Recovery Associations and the IICRC, we believe in validation and certification from external sources to ensure our capabilities are above our competitors.

The Certified Bio Recovery Network:

Being in the industry for over 25 years and a leader within the field, our network extends throughout the United States and many European Countries, this is why we established a internal network called "The Certified Bio Recovery Network" which help us service and respond when needed to anyone need helping with small business throughout the country and world.

Taking a Call:

With the growth of the company, one thing has always been true, no matter the time 24/7/365 days you will always have a live person picking up the phone to assist and don't be surprised when it's one of the Vogel's ready to assist.

Technology Advancements:

Technological advancements have led to the biohazard industry's development, which has positively impacted how we go about our jobs. We use some of the most advanced systems currently on the market. We strive to be the first in this push. We use systems like the Tomi Steramist, adenosine triphosphate (ATP) testing technology and much more.

Certified, Insured, and Licensed:

Guiding through this industry can be difficult because of the lack of regulations in the industry. Emergi-Clean, Inc. does met and exceeds all minimal standards requirements set by the local, state and federal agencies. Emergi-Clean, Inc. through years of experience and questions, Emergi-Clean, Inc. holds and continues to hold some of the highest certifications, licenses and permits offered to private companies.

100% Customer Satisfaction Guaranteed:

we stand by our work with a 100% Customer Satisfaction Guarantee.